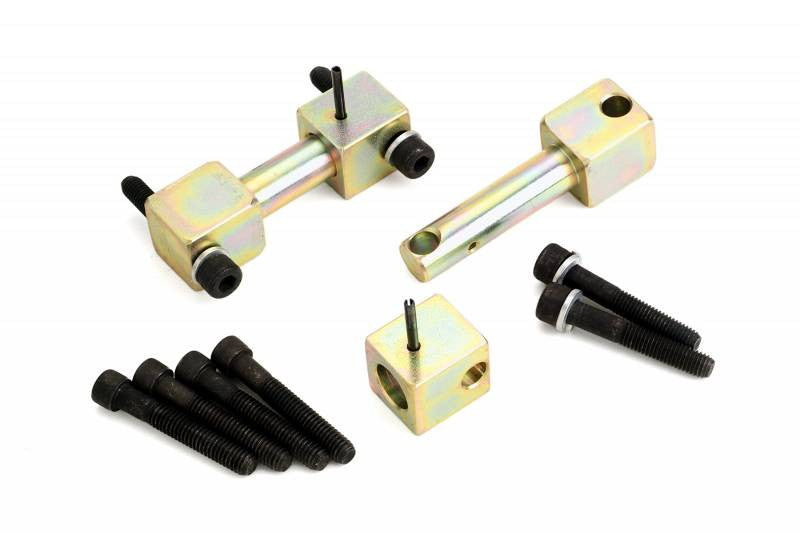 JKS Jeep TJ / LJ Rear Upper Bar Pin Eliminator
---
Bar Pin Eliminator; Rear upper; Heavy duty replacement for OE bar pin shock mount; Attaches directly to factory shock mount; Reduces static length of shock absorber 0.40 in.; Solid steel construction; Zinc plated; Bolt-on; Pair.
The standard bar pin design used by most manufacturers provides no lateral support of the shock absorber bushings. Excessive movement between the parts causes the bushings to distort, instead of deflecting impacts to the shock absorber as intended. As the bushings lose their integrity, annoying "thumping" or "rattling" sounds are often heard, and even felt, inside the vehicle cabin.
Heavy duty replacement for bar pin style shock mount prevents transfer of noise and vibration caused by bushing movement.
Preloads shock absorber bushing to proper specifications for better performance and longevity.
Bushing surfaces machined smooth for reduced friction and wear.
Retains original mounting alignment to prevent stress on shock absorber and bushing.
Provides almost 1/2 in. additional down travel at shock absorber.
Zinc plated, premium grade steel components for corrosion resistance.
Compatible with OE and aftermarket shock absor.
---
More from this collection