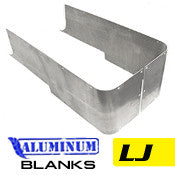 GenRight Jeep LJ Full Corner Guards Blank - Aluminum
---
This is the ultimate in builders corner guard in ALUMINUM for the Jeep Unlimited "LJ" from GenRight Off Road.
You can put the wheel opening, gas filler and tail lights anywhere you want!

FEATURES:

Laser cut to fit the tub.

Can be trimmed to still fit the standard fender flares or the GenRight metal tube flares, to remain street legal.

Made of lightweight 3/16" thick 6061-T6 Aluminum Alloy plate.

Has NO holes for the OE tail lights, hinges or gas filler.

Our corner guards are pre-drilled and use at least 2 more mounting bolts than other brands to secure the corner to the tub.

We use all 5/16" countersunk Stainless Steel bolts (flush type) to securely mount our corners to protect your Jeeps tub.
NOTES:
a) The Full Corners are sold un-painted and will require drilling and cutting of the your Jeep to mount this product.
b) We offer Full Corner Guards to fit the standard wheel well.
c) These things are huge & weigh 85lbs each!
d) There has been a slight difference in the corner of the body between the model years, some modification by the end user may be necessary.
FREE SHIPPING
---
More from this collection