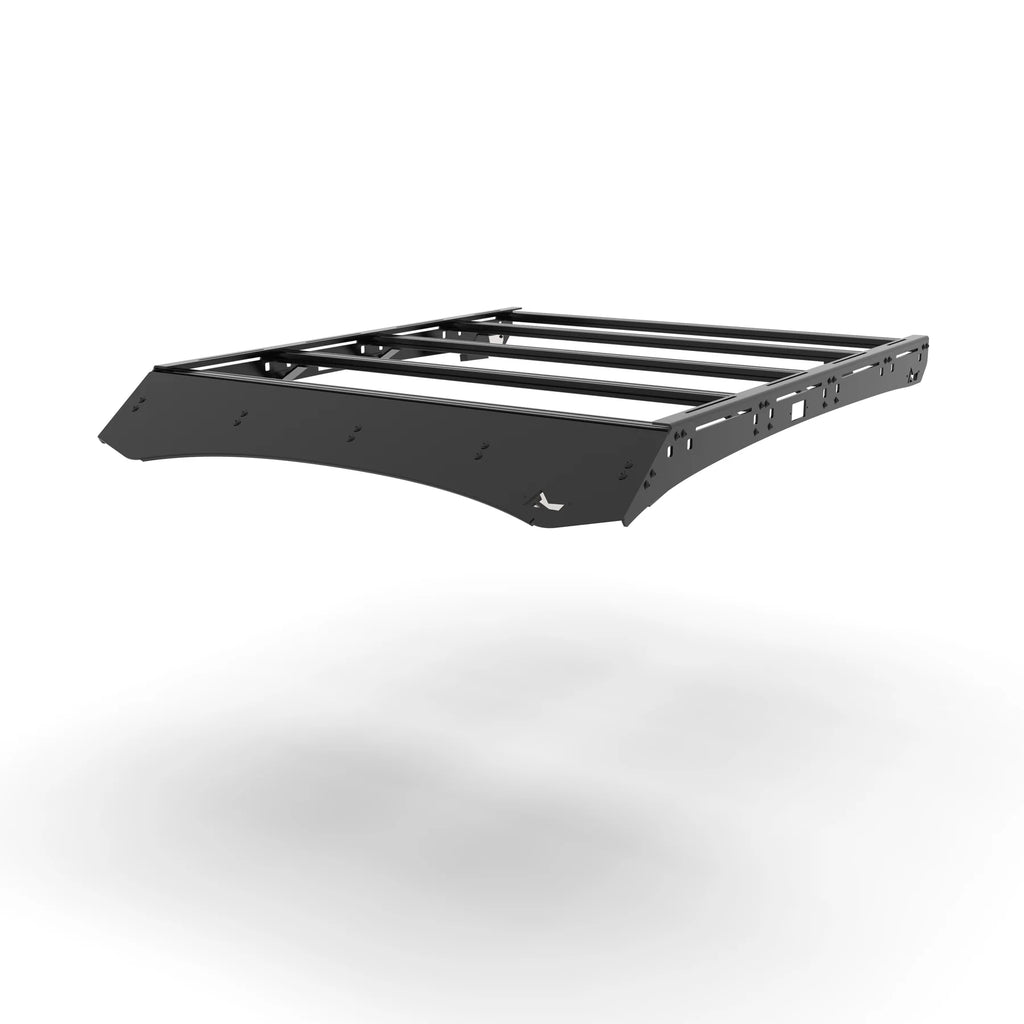 TRAILRAX MODULAR ROOF RACK FOR THE TOYOTA TACOMA
---
TRAILRAX MODULAR ROOF RACK FOR THE TOYOTA TACOMA
The most rugged roof rack available for your Toyota Tacoma! This Aluminum roof rack offers an assortment of ways to mount gear and tools for your next adventure. We use 5051 3/16" aluminum for the main panels that give extreme rigidness and durability for all the gear you plan to equip your Tacoma with. We also have a large number of accessories available with this roof rack that will allow endless combinations and possibilities for the end-user. 
We added a wind deflector to the roof rack to eliminate wind-noise all together. Our deflector angle is designed to match the windshield angle so you keep your aero dynamics as well as have a rack that looks like it should have come from factory. We also worked with our friends at Heretic Studio to work on a cut-out to flush fit an offroad light onto the wind deflector. This combination of our roof rack and Heretic's 40" light will allow the light to sit below the top face of the aluminum TSLOT so that the rack is completely level for those larger items on the rack.
Our Aluminum extrusions/TSLOTS that come with the rack are anodized black and cut to length with absolute precision. The extrusions are made locally here in Utah and have a high-stress rating as well as deflection rating giving the user the best load capacity possible.
Our one-piece side panels for the roof rack offer extreme durability and capacity to the rack itself. It also offers a 90-degree bent channel that gives the end-user a full 360 degree area to mount even more accessories. These panels also come precut with slots to add more extrusions and tools to the side panels, offering more modularity and customization.
The mounting system uses CNC cut and bent Aluminum feet that distribute the load of the rack directly to the roof of the vehicle. It is mounted into reinforced parts of the cab that are perfect for load bearing roof racks. We designed this Modular Roof Rack to accomplish what the tacoma needed in its market, a dependable mounting solution for tools and gear that is overbuilt for the purpose it serves. We never settled in the design and wanted every Tacoma rack to be capable of taking on all adventures.
Our TrailRax Modular Roof Rack line is a great option for the all-out overlanders or desert racers as well as the entry-level overlanders or off-roaders. This rack gives the end-user the ability to upgrade or add to their roof rack as they need.
Brand's and Products recommend using with our TRMR Rack:
While you are not limited to these brands, these brands worked with us along the way in designing the rack. This gives us and them the ability to work with their products within the design to make sure everything fits properly and works together in harmony. If you are looking to accessorize your TRMR Rack, look no further than these brands if you want high-quality products that fit directly to your TRMR Rack with no headaches. 
Specs:
Fits Toyota Tacoma 2005-2023 Double Cab

Overall height added to your Tacoma- 3" from the center of the roof

Static

 

load rating of the rack: 700 lbs evenly distributed across the rack
Dynamic

 

load rating of the rack: 400 lbs evenly distributed across the rack
---
More from this collection