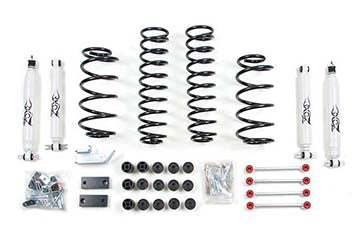 Zone OffroadJeep TJ & Unlimited 4.25 Inch Lift Kit
---
Due to popular demand, Zone Offroad introduces the 4.25" combo lift for your 1997-06 TJ Wrangler. Zone Offroad merged their 1.25" body lift, 1" motor mount lift, & 3" Suspension lift into one kit to provide superior value and performance.

This system will easily clear 33's with room to twist. This complete system is made to handle great off road as well as ride better than stock on road. When compared to your stock TJ, this kit increases droop by 4-3/4" and increases the wheel travel from the stock 7" to 10 full inches of wheel travel! These coil springs are designed to last and handle all the abuse you can throw at them and maintain the correct ride height.

One of the key aspects to this 4.25" combo system, is it eliminates the use of a transfer case drop, but still allows for use of the factory rear driveshaft. Essentially the included motor mount lift replaces the transfer case drop included w/ other systems and improves the rear driveline angles by tilting the transfer case output down towards the rear axle. Not only does this mean you are getting the full added belly pan ground clearance from the lift, but also added ground clearance to the engine's oil pan. This is a significant benefit in comparison to a suspension lift alone. Furthermore, by installing the motor mount lift in combination with the body lift it re-aligns the engine fan with the shroud to ease the installation.

This system is sold with the choice of fixed front sway bar links or sway bar disconnects if you are looking to get the most articulation from your system when offroad.

This system is certainly one of the best values on the market today to clear 33's with more ground clearance than most other systems provide.
Featured Technology & Benefits
3" Suspension System
1.25" Body Lift
1" Motor Mount Lift
Rear track bar relocation system to center the axle under your TJ
No transfer case drop required for full ground clearance
2" bump stop extensions are included to protect your vehicle while still increasing wheel travel
Hydraulic or Nitrogen charged front and rear shocks are included that are valved specifically for your TJ availabe
Sold with choice of front sway bar links or disconnects
Quick Specs
Front Lift Height: 3+1-1/4
Front Lift Method: Coil Springs & Body Lift
Rear Lift Height: 3+1-1/4
Rear Lift Method: Coil Springs & Body Lift
Install Time Hrs: 9-10
Difficulty Level 1-5: 3
Wheel Size: 15 x 8
Back Spacing: 3-1/2″
Max Tire Size: 33 x 12.50
FREE SHIPPING
---
More from this collection