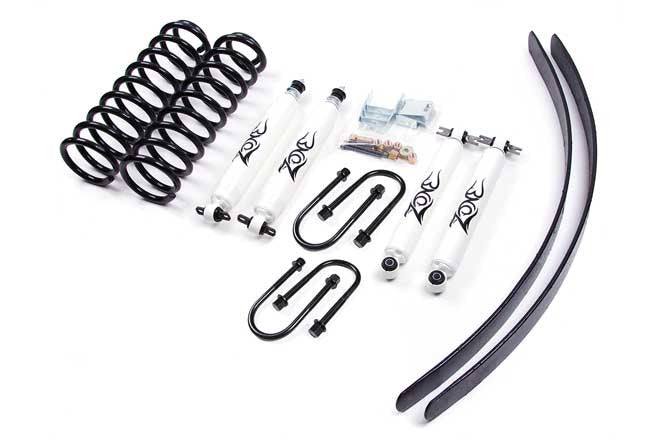 Zone Offroad Jeep XJ Cherokee 3 Inch Lift Kit
---
New front coil springs are supplied with this 3″ XJ lift kit that are capable of handling anything! Since Zone Offroad Products design their coil springs for off road use, there is no need for bump stop extensions. Zone coils can be smashed to the bottom and will always come back! No, that doesn't mean they are stiff. The key is using the correct size wire with the correct spring rate to offer the perfect ride and still hold up over time. Unlike many inexpensive kits on the market, our springs are made in the USA.
The rear is lifted via a new long add-a-leaf that's been designed and tested to hold up over the long haul without creating a harsh ride. Unlike many companies (we all know who they are), our system comes with New rear u-bolts You never want to re-use a u-bolt!
New Zone shocks are included in the kit that are valved specifically for the XJ.
The Zone Offroad J6 3″ suspension lift kit fits 1984 - 2001 Jeep Cherokee XJ's w/ Chrysler 8.25 Rear Axle. The J7 kit fits 1984 - 2001 Jeep Cherokee XJ's w/ Dana 35 Rear Axle. Make sure to make the correct axle selection before adding this kit to your cart.
Featured Technology & Benefits
Front coil springs designed to give a full 3″ of lift while maintaining an O.E. style ride
No bump stops are included because our springs are designed for extreme travel.
Long, thin add-a-leafs for the rear that offer a smooth ride as well as hold up over time
New rear U-bolts are included with high nuts and washers
New front and rear shocks are included that are valved specifically for your XJ
The XJ was produced with different possible rear axles. You will have to identify your rear axle before being able to complete an order. The easiest way to tell the difference is to measure the I.D. of your rear u-bolts. The Chrysler 8.25 rear axle uses a 3" I.D. u-bolt and the Dana 35 rear axle requires a 2-3/4" I.D. u-bolt.
Though not always required, optional 1" transfer case drop kit (J5006) recommended when using stock driveline.
FREE SHIPPING
---
More from this collection