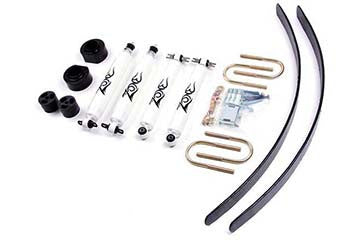 Zone Offroad Jeep XJ Cherokee 2 Inch Lift Kit
---
Zone Offroad doesn't design just spacer kits, they design suspension systems. After looking at all of the spacer kits on the market, Zone Offroad designed one that would actually maximize performance. A lot of testing was done to ensure the correct durometer material was used to maximize vibration absorption and absorb harsh impacts while ensuring they were tough enough to last the life of your vehicle. In addition to using the perfect durometer material, a UV stabilizer was added to ensure the material wouldn't break down over time.
After the perfect spacer was created, Zone Offroad didn't forget about the bump stops. Many companies sell just the spacers without including bump stops or bump stop extensions. The factory coil springs were never designed to collapse farther than the factory wheel travel. If extended bump stops are not installed, this may drastically reduce the life of your factory coil springs. Zone Offroad bump stop extensions can handle any impact that you can handle while driving it. We know this for a fact!
The rear is lifted via a new long add-a-leaf that's been designed and testing to hold up over the long haul without creating a harsh ride. This system also comes with new u-bolts.
Featured Technology & Benefits
Front coil spring isolators with application specific durometer urethane that is used to add lift as well as absorb vibration and harsh impacts
Front bump stop extensions are included to protect your original coil springs
Long, thin add-a-leafs for the rear that offer a smooth ride as well as hold up over time
New rear U-bolts are included with high nuts and washers
New Zone front and rear shocks are included that are valved specifically for your XJ
Important Notes!
The XJ was produced with different possible rear axles. You will have to identify your rear axle before being able to complete an order. The easiest way to tell the difference is to measure the I.D. of your rear u-bolts. The Chrysler 8.25 rear axle uses a 3" I.D. u-bolt and the Dana 35 rear axle requires a 2-3/4" I.D. u-bolt.
FREE SHIPPING
---
More from this collection