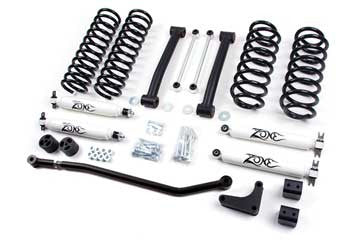 Zone Offroad Jeep WJ Grand Cherokee 4 Inch Lift Kit, 99-04
---
This 4" WJ system offers dramatic improvement in both ground clearance as well as wheel travel. The system uses made in the USA coils springs that are designed not to sag. The new massive lower control arms not only correct front alignment but include factory like rubber bushing to absorb the road. This system comes with a small transfer case drop to correct driveline angles. A heavy duty front adjustable track bar is used to center the front axle. The rear used an upper A-arm spacer to ensure the factory joint does not get maxed out through wheel travel. Check out some of our competitors and you will find that most don't include both lower control arms and the rear a-arm spacer at the price offered by Zone Offroad. With 4" of lift, you can clear those 31's with room to twist as well as use your Jeep for a daily driver. The system is available with Zone hydro or nitrogen charged shocks.
Featured Technology & Benefits
Four new Zone coils are included that are capable of being fully smashed down and they will always come back to their original height.
Rear extended sway bar links are included. These links come with urethane bushings to increase performance and reduce body roll.
A front adjustable track bar is included to properly center the front axle.
A rear upper tri-link spacer is included
A minimal transfer case drop is supplied to correct the driveline angle while maintaining as much ground clearance as possible.
2" bump stop extensions are included to protect your vehicle while still greatly increasing wheel travel
New massive front lower control arms with factory like rubber bushings
The system is completed with 4 new Zone shocks that are specifically valved for your WJ to perform well both on and off road.
Important Notes!
Vehicles equipped with V8 may not achieve stated lift height.
AWD models may require front drive line modification.
Some vehicles may experience front wheel shimmy that is attributable to the OE design. Specific tire and wheel combinations may induce steering shimmy. In most cases, alignment and/or tire and wheel changes will correct this problem. Zone Offroad assumes no incurred expenses associated with the correction of this problem.
FREE SHIPPING

---
More from this collection