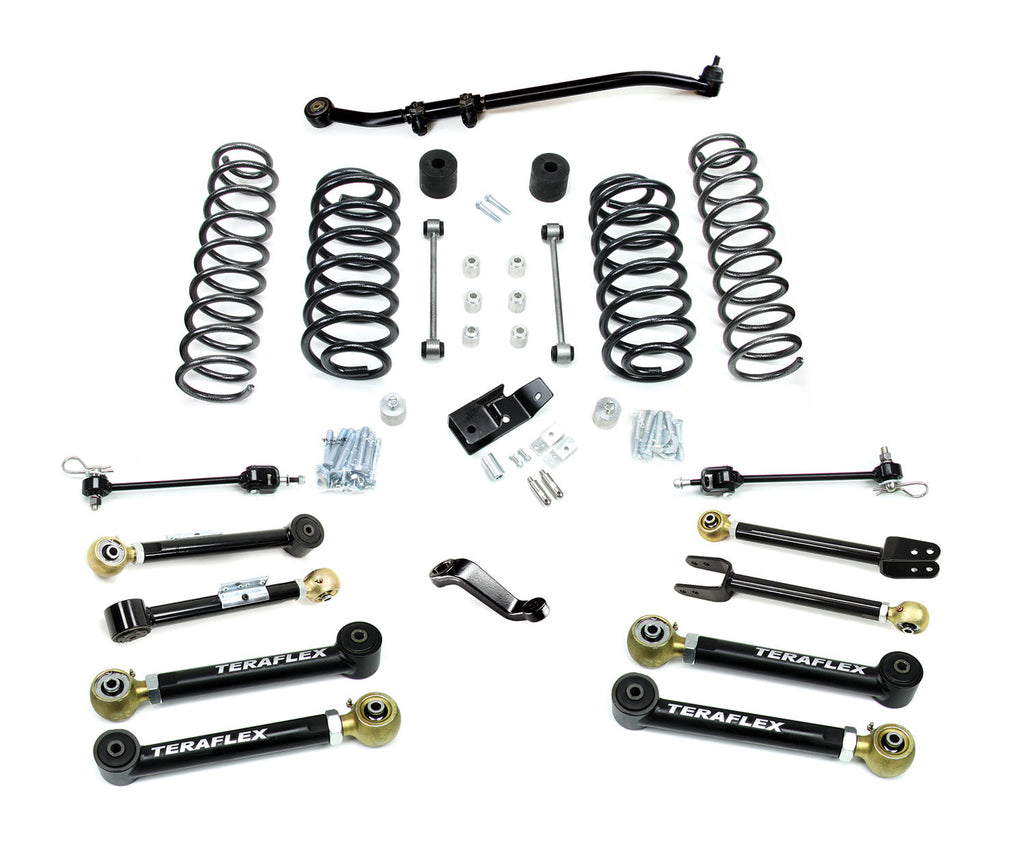 TeraFlex Jeep TJ/LJ 4" Suspension System w/ 8 Flexarms - No Shocks
---
TeraFlex Jeep TJ/LJ 4" Suspension System w/ 8 Flexarms - No Shocks

The TeraFlex TJ/LJ 4" Suspension System w/ 8 Adjustable Flexarms delivers everything you need to lift your TJ Wrangler or LJ Wrangler Unlimited to conquer the most extreme trails and conditions.
Every TeraFlex suspension system is engineered with drivability and performance in mind. Properly developed suspension geometry, roll center, and load tuning ensure that all factory stability controls remain functional and within the parameters that Jeep originally engineered into the vehicle. Not only do TeraFlex kits drive straight, but they will crawl over anything to get you there and back!
FITS:
• TJ Wrangler 
• LJ Wrangler Unlimited (long-wheelbase)
SPECS:
• LIFT HEIGHT: 4" 
• MAX TIRE DIAMETER: 35"
INCLUDES:
• 4" lift coil springs 
• Adjustable flexarms - set of 8 
• Adjustable front track bar 
• Dropped pitman arm 
• Front sway bar quick disconnects 
• Rear track bar bracket 
• Rear sway bar links 
• Bump stops 
• Brake line extension brackets 
• Transfer case lowering kit 
• All necessary hardware 
• And more
NOTES:
• Additional modifications may be required.
• May require a transfer case slip-yoke eliminator kit.
• Requires longer shocks – not included..
INSTALL TIME: 8 Hours
FREE SHIPPING
---
More from this collection