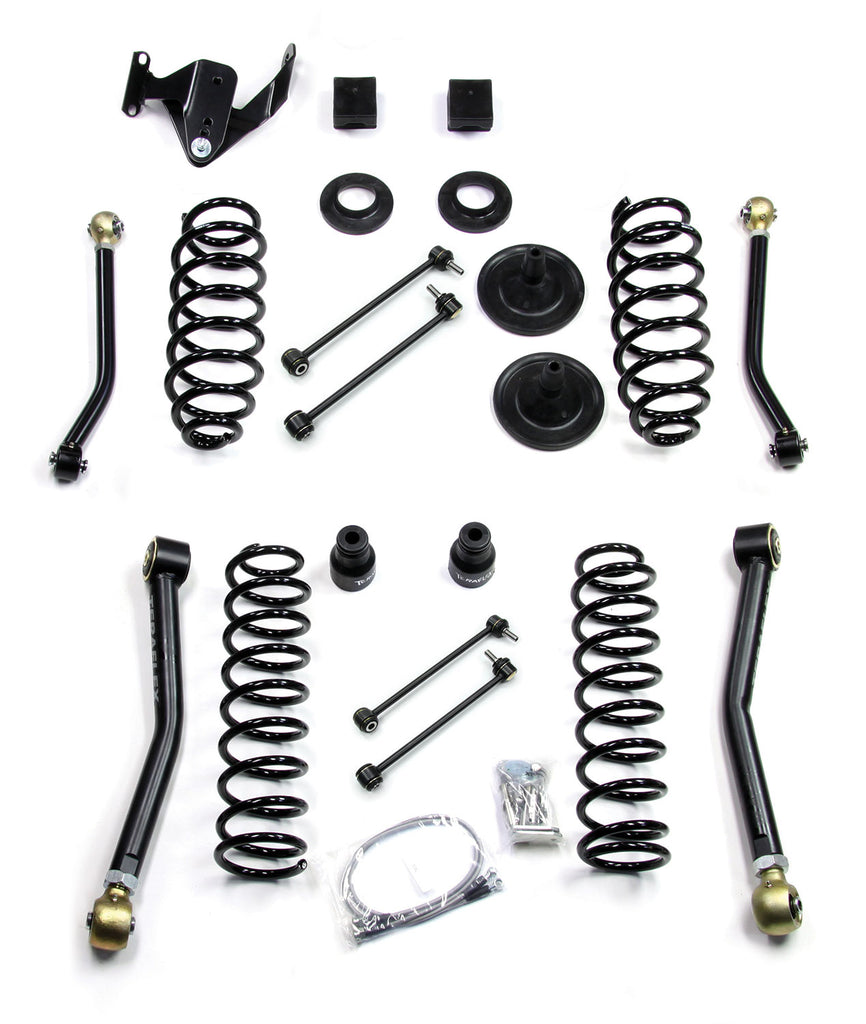 TeraFlex Jeep JK 4-Door 3" Lift Kit w/ 4 Adjustable Flexarms
---
TeraFlex Jeep JK 4-Door 3" Lift Kit w/ 4 Adjustable Flexarms
The TeraFlex JK 3" Suspension Lift Kit delivers the ability to tackle some serious trails. Drivability and performance are the most important factors that are engineered and built into every TeraFlex lift kit. Properly developed suspension geometry, roll center, and load tuning ensure that all factory stability controls remain functional and within the parameters that Jeep originally engineered into the vehicle. TeraFlex kits drive straight and will crawl anything, getting you there and back!
This system includes 3" lift coil springs, 2 front lower adjustable Flexarms, 2 rear upper adjustable Flexarms, front sway bar disconnects, rear sway bar links, rear track bar bracket, bump stops and all necessary hardware.
This kit will allow you to run up to a 35" tire. Aftermarket wheels with 4.5" backspacing or less are required, or use stock wheels with TeraFlex Offset Wheel Adapters (#1055000 - 2 sets).
Fits all JK Wrangler models including Rubicon & Unlimited.
Note: 
2012+ JKs require exhaust spacers (#2610000) or other exhaust modification for proper driveshaft clearance. 
This kit does not include shocks; longer shocks will be required. 
Driveline modifications may be necessary with this suspension system, or the TeraFlex Rzeppa High Angle CV kit (#1744014) is a perfect solution. 
TeraFlex's Front Adjustable Track Bar (#1753418) is recommended for this lift kit.
FREE Shipping
---
More from this collection