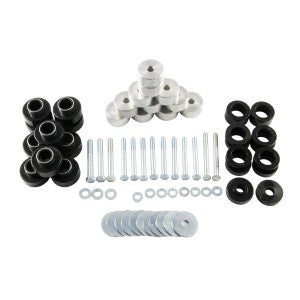 M.O.R.E. Jeep CJ-7, CJ-5 1 Inch Body Lift w/ Body Mounts
---
M.O.R.E. invented the one inch Jeep body lift "Puck" over 20 years ago. With the need to keep increasing tire sizes and a new generation of flexible suspension systems, it has become a necessity to move the body away from the frame for increased tire clearance. One inch doesn't sound like much; however, in most cases, our "pucks" and complete body lift kits will give you the extra clearance you need, without making your Jeep® look like it's been lifted.

Our body lift "Pucks" are made out of 6061-T6 aluminum. We're talking about aircraft quality stuff here! They will not crush, break or slip around once bolted in place. Natural aluminum color looks great under your rig, and there's no plastic to break or look "cheap."

M.O.R.E.'s Body Lift Systems come with everything you need! These kits come with new polyurethane body mounts. You save time and money when you install the system under your rig. Replace the old worn out rubber body mounts that are on your Jeep® with new polyurethane. These specially formulated polyurethane bushings are soft enough to allow flex yet tough enough to withstand heavy duty abuse. They will not squeak or make noise. The factory tube/sleeves must be re-used for CJ applications. Black only.
FREE SHIPPING
---
More from this collection