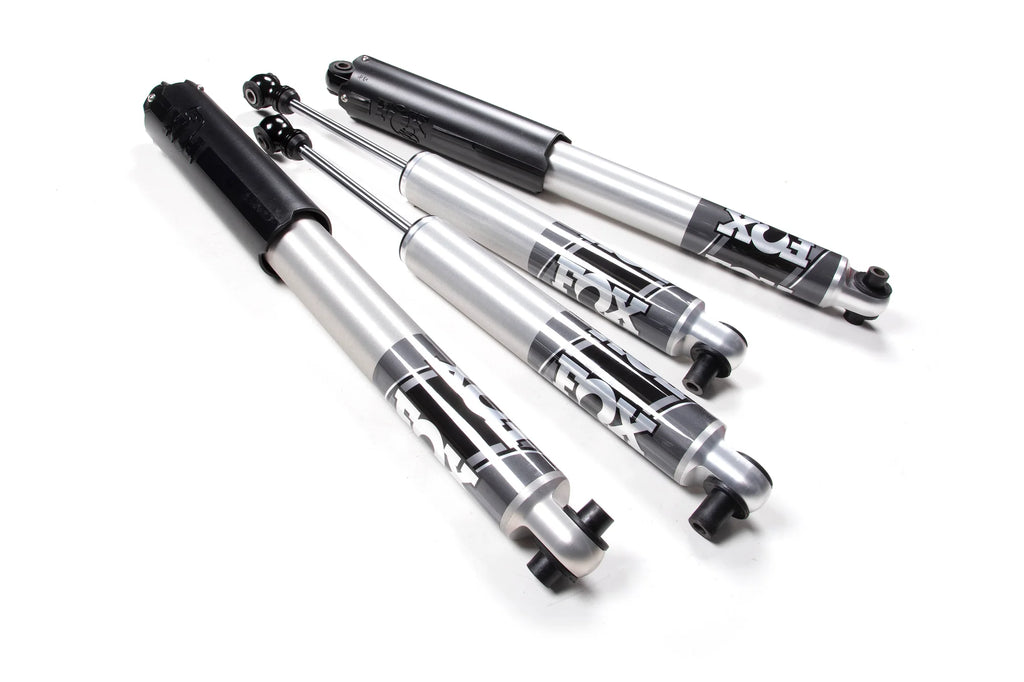 JKS Jeep JL / JLU FOX 2.5 IFP Performance Series Shock Package Set of 4
---
JKS Jeep JL / JLU FOX 2.5 IFP Performance Series Shock Package Set of 4
Looking to increase your vehicle's off-road capability by running larger tires? The new Performance Series 2.5-inch Jeep shocks are designed to provide on-road comfort with performance-minded valving for a connected ride with less vehicle sway. How? Consistent and fade-resistant performance due to high-quality materials: 2.5-inch aluminum bodies and race-developed main piston with a true internal floating piston (IFP) to separate gas and oil. The 2.5-inch piston offers a greater force capability by moving more fluid and increasing damping and is less prone to cavitation. The larger diameter valve assembly improves comfort through a wider dynamic range. This allows for a supple feel as velocity increases when transitioning from crawling to fast trail driving. FOX products are built from aluminum, dissipating heat four times better than conventional materials. All FOX shocks are fully serviceable and resistant to corrosion and harsh environments. Tuned specifically for your vehicle's application. Built-to-last, torture-tested, and race-proven to give a lifetime of great rides.
Tuned specifically for optimum ride and performance on larger plus-size wheel and tire packages.
The same high-quality aluminum bodies and internal floating piston architecture used in our Performance Series 2.0 shocks.
New 2.5-inch diameter shocks have more surface area and increase oil capacity of the shock, allowing for more heat dissipation.
Larger diameter valve shims translate to smoother feel: think firmness without harshness, allowing for a softer tune.
50% more piston surface area provides less damping fade and more bottom-out control at higher speeds.
Integrated rear roost guard ensures protection of the shaft from stones, mud and other debris.
---
More from this collection