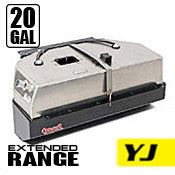 GenRight Jeep YJ 20 Gal Extended Range Gas Tank
---
This is the Crawler™ Extended Range Gas Tank to fit a Jeep YJ (1987 to 1995) models.

This is prefect for those guys who are stuck with the stock 15 gallon tank. This tank holds an EXTRA 5 gallons of fuel AND still fits in the stock location in a Jeep Wrangler YJ for those long distance trips. Sorry NO axle move back possible with this model tank and ground clearance is about the same as the stock YJ tank skid.
For a tank with similar features but will allow some axle relocation and better ground clearance see the EXT for the YJ which allows for bigger rear axles and up to 5" stretch!.
This production built gas tank is heavy duty tank is trail proven! The assembly mounts in the factory location and is it designed to work with all your factory emissions equipment so you won't get and check engine lights or have computer issues.

FEATURES:  
Improved departure angle.

Same as stock, 20 gallon fuel capacity.

Still works with leaf springs.

Mounts in stock tank location, with 7 factory bolts.

Stock mounting location keeps center of gravity low.

Accepts the stock Jeep fuel pump/sensor.

Proprietary sump to trap gas at the fuel pick up

1/8" thick Aluminum alloy tank is TIG welded.

Foam liner between tank & skid plate.

Includes a 3/16" thick heavy duty steel skid plate.

Assembled with stainless steel straps.

CNC Machined fittings are TIG welded.

Includes factory Mopar roll over / vent valves.

Multiple internal baffles to reduce fuel movement.

All tanks are 100% pressure tested.

Patent Pending.
Additional NOTES:
This tank is designed to accept the factory fuel pump

or

sender module from a '87-'95 Jeep Wrangler YJ equipped from the factory with a 20 gallon Plastic Tank (NOT the 15 metal tank found in a few model years).

This tank will ONLY fit with a Dana 35 or Dana 44 or similar sized rear axles in the stock location!

Installation of this product MAY require changes to the last 14" of the exhaust tail pipe.

This tank does NOT require a body lift.

Fits well with Currie brand Anti-Rock type rear sway bars.

If you will be using the factory YJ fuel module/pick up you will need to lengthen the unit 1" to reach the bottom of the tank.
FREE SHIPPING
---
More from this collection