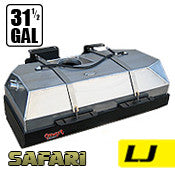 GenRight Jeep LJ 31 Gal Safari Gas Tank 05-06
---
This is the NEW heavy duty extended range "Safari" tank & skid for the Jeep Unlimited.


This extra capacity tank holds 31.5 gallons of gas and allows for 1/4" more ground clearance!

The Crawler™ Safari Gas Tank will only fit the Jeep Unlimited LJ (2005-2006).
It is specifically designed to hold an EXTRA 11.5 gallons of fuel AND it does require removal (cutting out) of an un-necessary frame cross member to make it fit. Then this tank will simply bolt in to replace your stock gas tank (on Jeep Wrangler LJ) for those long distance trips and keep your center of gravity low by carrying the extra fuel down low in the stock location.
This tank has the same relation to the rear axle as the stock tank and occupies the exact same space as the stock tank, so if your suspension lift & axle combination works with your stock tank, it will work with the Gen-Right Safari tank too.
Sorry, NO axle move back possible with this model. This tank maintains the exact same relationship to your axle as the stock tank. In short, if what you have fits with your stock tank it will work with our Safari tank too.
For a tank with similar features but does not require cutting, that carries 5 more gallons of fuel than stock, see the Crawler Enduro tank model (GST-2003).

NOTES: We have only checked this tank to fit with the Dana 35 or 44 rear axles in the stock location (all types of lift kits work OK). If your lift kit and trac bar mount works with your stock tank it will work with our tanks too.

FEATURES:

Each tank is made from 1/8" thick Aluminum alloy and INCLUDES a matching heavy duty 3/16" thick steel gas tank skid plate.

Has multiple internal baffles to reduce fuel movement and keep fuel near the pick up.

All Crawler fuel tanks are designed to accept all the stock Jeep fuel pump/sending units and other related equipment so you will not get any check engine lights or other engine computer issues.

NOTE: On 2005 and newer models we recommend (but not required) a small 1" body lift.

Ground clearance is 1/4" MORE than stock.

31.5 Gallon total fuel capacity.

Includes factory Mopar vents to adapt to your vehicles factory emissions system.

Patent Pending.

NOTES:

The '05-'06 model Jeeps came with a different size fuel pump that mounts a different way. This model GenRight tank includes some extra parts to mount this newer pump.

Due to the size and weight of this product... DELIVERY is possible by 

FedEx

ground but WILL CALL or TRUCK (FREIGHT FORWARDER) IS BEST and a COMMERCIAL SHIPPING ADDRESS will save you money.
---
More from this collection