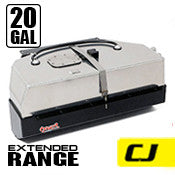 GenRight Jeep CJ 20 Gal Extended Range Gas Tank
---
This is the Crawler™ Extended Range Gas Tank to fit a CJ-7 & CJ-8 (1974 to 1986) models.

This is prefect for those guys who are stuck with the stock 15 gallon tank. This tank holds an EXTRA 5 gallons of fuel AND still fits in the stock location in a Jeep CJ-7 for those long distance trips. Sorry NO axle move back possible with this model tank and ground clearance is the same as stock CJ tank skid.
For a tank with similar features but will allow some axle relocation and better ground clearance see the EXT for the CJ which allows for bigger rear axles and up to 5" stretch!

This new tank will accept the factory CJ fuel pick and sending unit BUT it was designed to accept the factory Jeep YJ in-tank fuel module which is better for those guys who have converted their Jeep over to fuel injection! Each tank is supplied with a blank adaptor plate for those guys who want to continue running the factory fuel pick up/sending unit.  
FEATURES:
Tank is made from 1/8" thick Aluminum alloy

INCLUDES a heavy duty 3/16" thick skid plate that matches the shape of the tank.

Multiple internal baffles to reduce fuel movement.

Patented SUMP keep fuel near the pick up.

Work with factory CJ pick up/sending unit or the YJ in-tank.

Ground clearance is the same as a CJ with the factory 20 gallon fuel tank.

20 Gallon total fuel capacity.

Pre-assembled with new factory Mopar vent valves and a stainless steel strap.

Includes rubber gasket for factory YJ pump/sending unit.

Patent Pending.
NOTES:
We only guarantee this tank will fit with Dana 20 or similar sized rear axles (like Ford 9") in the stock location!

If you will be using the factory YJ fuel module/pick up you will need to lengthen the unit 1" to reach the bottom of the tank.

Already have our Heavy Duty gas tank skid plate? Then you can upgrade and purchase just the tank.

The YJ sending unit is not compatible with the factory CJ fuel gauge in the stock CJ speedometer, BUT it is compatible with all aftermarket fuel gauges!
FREE SHIPPING
---
More from this collection